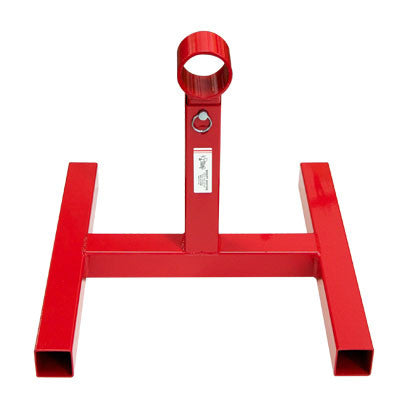 Landing Gear Safety Stand 18" Base (14.0" to 21.5")
Be safe when changing tires on your aircraft! Bogert Aviation's Landing Gear Safety Stand was designed to be used after the tire is removed. Simply slip the stand over the axle and prevent the airplane from accidentally falling. This method is safer than blocking and stabilizes the aircraft allowing the weight to rest on the axle NOT the jack. 
Benefits
Promotes safety while reducing liability exposure.
Eliminates plane from falling off jack.
Prevents damaging threads on the axle.
Allows the aircraft weight to rest on the axle.
Features
Made from heavy gauge square steel tubing for strength, safety and durability.
Slips over the axle when the wheel is removed.
Spin nut back on and the plane can't slip off the stand.

Rated for 2 Tons 

Adjusts in height from 14.0" to 21.5".
Wide, stable "H" 18" base.
Quick release pin included.
Made in the USA.
---
We Also Recommend