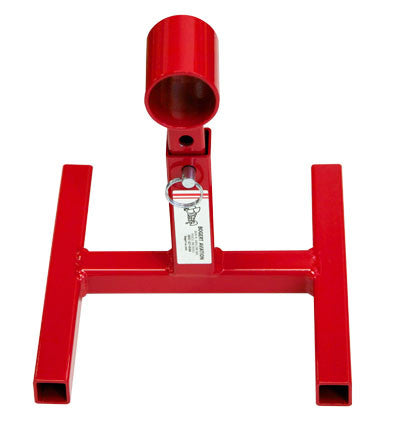 Landing Gear Safety Stand 9" Base (7.25" to 10.25")
Be safe when changing tires on your aircraft! Bogert Aviation's Landing Gear Safety Stand was designed to be used after the tire is removed. Simply slip the stand over the axle and prevent the airplane from accidentally falling. This method is safer than blocking and stabilizes the aircraft allowing the weight to rest on the axle NOT the jack.
 Benefits
Promotes safety while reducing liability exposure

Eliminates plane from falling off jack

Prevents damaging threads on the axle

Allows the aircraft weight to rest on the axle
Features
Made from heavy gauge square steel tubing for strength, safety and durability

Slips over the axle when the wheel is removed

Spin nut back on and the plane can't slip off the stand

Rated for 2 Tons 

Adjusts in height from 7.25" to 10.25"

Wide, stable "H" 9" base

Quick release pin included

Made in the USA
Easy to use
I really didn't realize hat this deice would be important for safety!
Works great, enabled me to pull both wheels, brakes and toque links to take home to clean up repack, make up new hose assembles saving both time and travel between hanger and shop (20 miles).
Landing Gear Safety Stand is Utilized by the Chuckanut Flying Club
This is a must-have safety tool for those members who help to perform preventative maintenance on the club's Cessna 182 and Piper Warrior II. It's well designed. Excellent quality. The powder coating makes it easy to clean after the job is done.
---
We Also Recommend